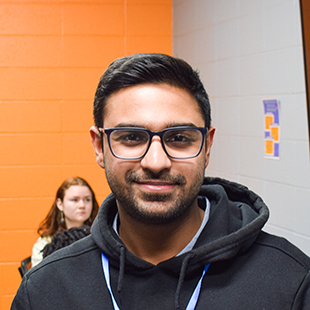 Pavan Idnani gets it, this giving back to the community, making a difference in people's lives and, perhaps, inspiring others to do the same.
Idnani is a junior studying informatics at the Luddy School of Informatics, Computing and Engineering. He is a Hoosier by way of Bangkok, Thailand, and that means far more than focusing on academics, although given his 18-credit hour workload while juggling multiple part-time jobs, a lot of focus is required.
Idnani gives of himself in many ways, highlighted by his volunteer work for Teach IT through the Laurie Burns McRobbie Serve IT Clinic. He goes to the Boys & Girls Club of Bloomington once a week for about an hour to teach essential IT skills to students in Grades 3 through 5.
He enjoyed it so much in the first semester that he's back for more.
"We take great pride in what we do," he says. "Not only are we benefitting our local community by teaching them essential IT skills they will need later in life, it's also a nice break from the craziness we experience as IU students."
Idnani and his fellow volunteers show students the basics of Microsoft Excel and computer programming languages.
"What we have seen," he says, "is that if we're able to positively impact students from a young age, they will be more intrigued to go into a STEM field."
Success for Idnani includes working as an IU international student ambassador and as a Luddy School student ambassador. He's also been a summer orientation leader and an undergrad instructor for an introduction to Informatics class.
Where does he find the time to do all this, plus meet his academic obligations?
"It's a lot of creating to-do lists on Outlook Calendar to make sure there's no overlap," he says.
IU was the perfect fit for him. He'd applied to seven universities in Australia and ten to fifteen in the United States, and chose the Luddy School because of the informatics program.
"It was a place where I could make the most impact," he says.
Idnani is pursuing a human-centered computing cognate. A short-term goal is to become a tech consultant at one of the big four accounting firms -- Deloitte, Ernst & Young, KPMG or PWC. He's lined up a summer internship at Ernst & Young to do high-level programming with the hope it will lead to a full-time offer.
Long term, Idnani wants to start his own business, although he's not sure of the industry. He considers family the most important part of his life, and a return to Bangkok is a strong possibility.
"Gaining work experience here would add to my value."